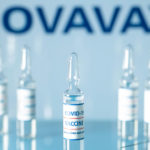 The Food and Drug Administration issued an emergency use authorization for Novavax's COVID-19 vaccine on Wednesday. The two-shot vaccine was authorized for use in people 18 years and older.
FDA Commissioner Dr. Robert M. Califf said in a statement: "Authorizing an additional COVID-19 vaccine expands the available vaccine options for the prevention of COVID-19, including the most severe outcomes that can occur such as hospitalization and death. Today's authorization offers adults in the United States, who have not yet received a COVID-19 vaccine, another option that meets the FDA's rigorous standards for safety, effectiveness and manufacturing quality need to support emergency use authorization."
The vaccine contains an added ingredient to produce a stronger immune response; and is a more traditional type of vaccine, in that it employs a whole, deactivated virus. The two other widely used COVID-19 vaccines, by Moderna and Pfizer, are mRNA-based.
Earlier in the week, the U.S. Department of Health and Human Services announced that the Biden administration had secured 3.2 million doses of Novavax's COVID-19 vaccine. If the CDC signs off on use of the vaccine, it will be made available for free to U.S. states and jurisdictions shortly thereafter.
Editorial credit: vovidzha / Shutterstock.com