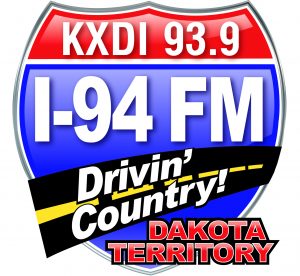 KXDI-FM at 93.9 is a 100,000 watt commercial FM radio station licensed to Belfield, ND with offices and studios in Dickinson, ND. The transmitter and tower are located 5 miles west, and 12 miles south of Dickinson.
I-94 FM is Drivin' Country, reaching out of the radio to grab your attention with a fresh, contemporary sound. Live and Local, the KXDI morning show wins the break of day. The broadcast signal reaches Sturgis, SD to the south, Stanley and Williston, ND to the north and northwest, Glendive, MT to the west and Bismarck, ND to the east.
KXDI is owned and operated by The Marks Group in Glendive, MT. Along with KXDI, the group also owns 9 other commercial radio stations as well as a CBS and NBC television station in Glendive.
KXDI focuses on programming pertinent to local adults 25-54 years old. The country music format blends perfectly with the lifestyle of southwestern ND. Along with music, KXDI also offers agricultural information via The Northern Broadcasting System, FOX News, WeatherEye weather forecasts, and local news reports produced daily by a regional news director. Other programs in KXDI's lineup include: Talk Rodeo, Loos Tales, The Mondak Oilfield Review and The Southwest Water Report. The Dickinson Chamber of Commerce and the Dickinson Convention and Visitors Bureau have a strong presence on the station. Any programming which is pertinent to the core population of the area is always strongly considered.
"Nondiscrimination -Paragraphs 49 and 50 of the United States Federal Communications Commission's Report and Order No. 07-217 provides that broadcast stations' advertising contracts will not discriminate on the basis of race or ethnicity, and must contain nondiscrimination clauses. Consistent with this order, this station does not discriminate in advertising contracts on the basis of race or ethnicity. Any provision in any order or agreement for advertising that purports to discriminate on the basis of race or ethnicity, even if handwritten, typed or otherwise made part of a particular contract is hereby rejected.
Click here to view our Public File.
Check out what is on your dial!